In a single opt-in signup process, the customer is added to the CRM as soon as he/she gives his/her consent to hear from you.
The customer could give consent by:
submitting a signup form
signing up via an SMS shortcode
In single opt-in signups, on submitting their details, the customer(s) gets added as a Contact in the CRM immediately with their opt-in status as True. That is, they are eligible to receive any communication that you might send henceforth.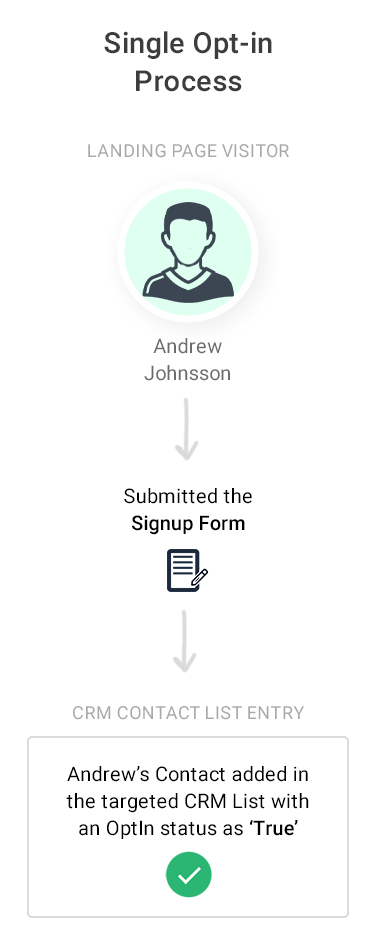 Single Opt-in Process – Pros and Cons
As seen in the infographic above, Contact information gets immediately added to the CRM once the customer submits the signup form. You can immediately start sending content to these customers. Here are some quick benefits and drawbacks of the single opt-in signup process.
Pros
Easier Sign-up process – A single opt-in process makes it easier for the user to sign up and gain immediate access to your content.
It is easier to implement.
Faster List Building – It is generally observed that single opt-in Lists grow about 20-30% faster as compared to double opt-in Lists.
Cons
An increased risk to your Sender Reputation – Since the Email addresses of the recipients are not verified before signup, it can lead to more bounces (Emails never getting delivered) and impact your Sender Reputation.
It can affect the quality of your mailing List and result in lower open rates.
Single SMS Opt-in may not give the required protection regarding TCPA regulation. We recommend that you always use Double Opt-in for mobile number signups.
Suggested Reading: Single Opt-in Mobile Number Signups, and Single Opt-in Email Signups.