What is a Squeeze Page?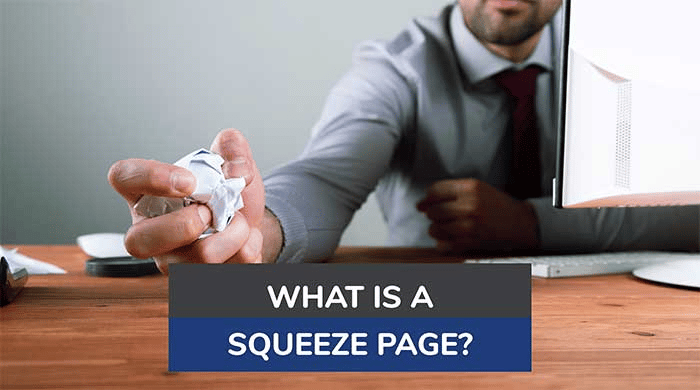 While the name may sound a bit odd to you, a squeeze page is extremely important and effective when it comes to growing leads and sales. With 5 simple squeeze page tricks you can achieve up to 58.6% in Opt-In rates.
A squeeze page represents one type of landing page but there are several other landing page types to pick from depending on what you are trying to achieve.
This article would introduce you to the world of squeeze pages.
What is a squeeze page?
A squeeze page is kind of a landing page that is designed in order to collect the email addresses of the visitors while offering them something valuable in return.
For example:
Sign up using your email address to get a free video course, an eBook, the latest report and insights, a gift coupon, or any other valuable offer that your target audience can't resist.
What is the difference between the landing page and a squeeze page?
The purpose is what makes squeeze pages unique from generic landing pages.
You can create a landing page for promotions, information sharing, latest launch updates, discount deals, or even for any kind of signup campaign let's say upcoming webinar, event or an appointment.
While squeeze page serves the sole conversion goal of collecting the email addresses of your target prospects. It is the most popular and converting type of landing page coz of its simplistic approach and underlined value proposition.
Here are the main highlights:
It always includes an exchange offer having prime value for your target prospects that they simply can't ignore.
Minimal (almost) negligible sign up fields. In most cases 'Name + Email' or just an 'Email Field'. This makes it the most converting signup form type.
No distractions or extra links that will take your prospects away from your squeeze page.
Single focussed CTA, the sign up form to collect the email ids.
Best practices to create amazing squeeze pages that always convert more
Address only one problem or only one offer on your squeeze page.
In the headline or supporting copy of your squeeze page, focus mainly on the benefits that your offering has to provide to the users. In simpler words, visualize the benefits in the best possible way.
Make sure that the offer or the lead magnet you create should be well enough to convince the users to provide you with their email addresses. A coupon, contest, discount, or free webinars can do the job.
While most squeeze pages do not include social proofs, you can include them in your squeeze page in a minimal manner. Social proof or reviews on your squeeze page will force the visitors to put their trust in you and provide you with the email address without a second thought.
And in order to keep your visitors interested, make sure that you keep the squeeze page quite brief and to the point.
Finally, it is super important to measure the performance & conversation rate of your squeeze pages and improvise accordingly. If you're interested check out these 6 points to create highly converting squeeze pages.
Examples of squeeze page
Need inspiration, or just wondering where do I start? A good idea is to look into some popular squeeze page examples that worked best for their brand owners.
Here are some of the squeeze pages examples for you to decide which one suits you the best.
Conclusion
The squeeze page is a landing page type that is created to capture visitors' email addresses. It is crafted around a very simple signup form where page visitor can enter their email address to access the primary page offer in return.
Make it short, sweet, add a value offering that your target prospect will love, and a minimalistic sign-up form asking for their email ids in return. Don't distract your visitors, never crowd your squeeze pages with multiple offers. Give them exactly what they're looking for.
Interested visitors are hard-earned leads and are more likely to convert, offer them a flawless experience to access your promoted deal/offering within your linked squeeze pages.
Also, while various squeeze page builders offering their services, you'll find our DIY landing page builder super easy to use and launch your next eye-grabbing and high-converting squeeze pages in minutes followed up with real-time performance & conversion insights.