The Create menu houses the different options available to create marketing campaigns like Email campaigns and Landing Pages, functionalities like Templates and Goals, and organizational tools like Folders.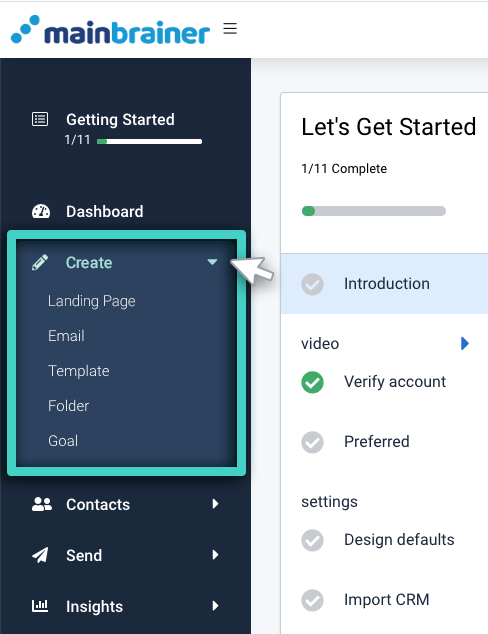 In this article, we have a look at what these menu options mean, and how they function:
1. Landing Page
A landing page is an independent web page to which potential customers are redirected when they click through a digital campaign (an ad/Email/SMS/social media post, etc.). A landing page is a standalone web page intended to serve a single purpose – Turn visitors into Customers! Get started with the MainBrainer Landing Page Creator and create engaging landing pages that convert!
2. Email
Email campaigns are one of the most effective ways to keep your customers engaged. Use this menu option to create and design Email campaigns in line with your marketing strategy.
3. Template
Templates help you save time by saving repetitive distribution details as templates that can be reused later.
4. Folder
A folder is an organizational tool designed to make campaign management easier! Similar to how folders organize files on a computer, folders on our platform help you organize similar campaigns together.
5. Goal
A Goal is a performance measurement tool that helps you keep track of your marketing campaigns' performance. Once you set a goal, the performance of your campaign vis-à-vis the set goal is displayed on your dashboard in real-time.
As you click any of the above menu options, you will be redirected to a management page that lists all the campaigns of that type created so far.
For example, if you click Create >> Landing Page, the subsequent screen (the Landing Page Manager) will list all the landing pages created so far. You can choose to edit a previously created landing page or create a new one from scratch. Similarly, if you click Create >> Goal, the subsequent screen (the Goal Manager) will list all the goals created so far. Ditto for the other menu options.