What is a Website Landing Page?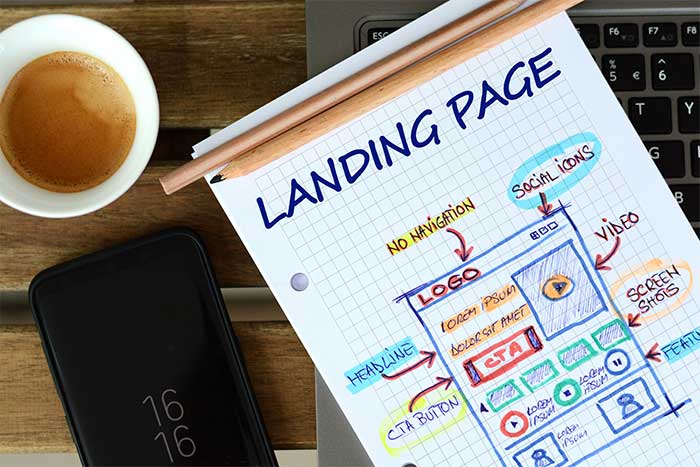 What is website landing page?
In a simple definition "Website landing pages receive the traffic and convert the traffic". A first page on the website where the prospective customer "land" after clicking on the online source, such as internet ads, social media, email links, or search engine results is termed as the website landing page.
The website landing page also termed as a destination page or post-click page is a place where visitors get information in detail for all their interests. The acquisition of potential customers by offering irresistible resources and turning them into real customers is the main goal behind creating a website landing page. They act as a key opportunity for the businesses to convert web clicks into clients and enhance the marketing campaign performance right away.
How website landing page is different from other pages in website?
Website landing pages are staples of inbound marketing and are designed with a substantial motive of maximum conversions with the least distractions by using only requisite components. Website landing pages focus on creating a valuable page that not only interests the visitors but also converts them to perform imperative action. While, the traditional website pages are created with broader targets and are more towards providing information, resources in detail to the visitors.
Comparison chart
| Particulars | Website landing page | Other pages in the Website |
| --- | --- | --- |
| Focus | Getting Conversions | Providing information |
| Goal | Specific idea aligned with ad campaigns | Multiple and diverse objectives |
| CTA | Single CTA | Multiple CTA |
| Header | No header bars | Header bar with tabs – about, services, features etc. |
| Design | Simplified designs, no distractions | Feature rich designs with navigational links |
| Content | Specific to campaign or single offering | Overall business categories |
Best ways to drive traffic to your website landing pages
There are paid and unpaid channels to help you drive traffic to your landing page but only a few channels will scale and drive consistent traffic to your landing pages. The most common landing page traffic sources (or digital marketing channels) include pay-per-click (PPC) ads, organic search, social media, and email marketing. The following infographic will help you identify the range of owned, earned, and paid tactics that are vital for your marketing strategy.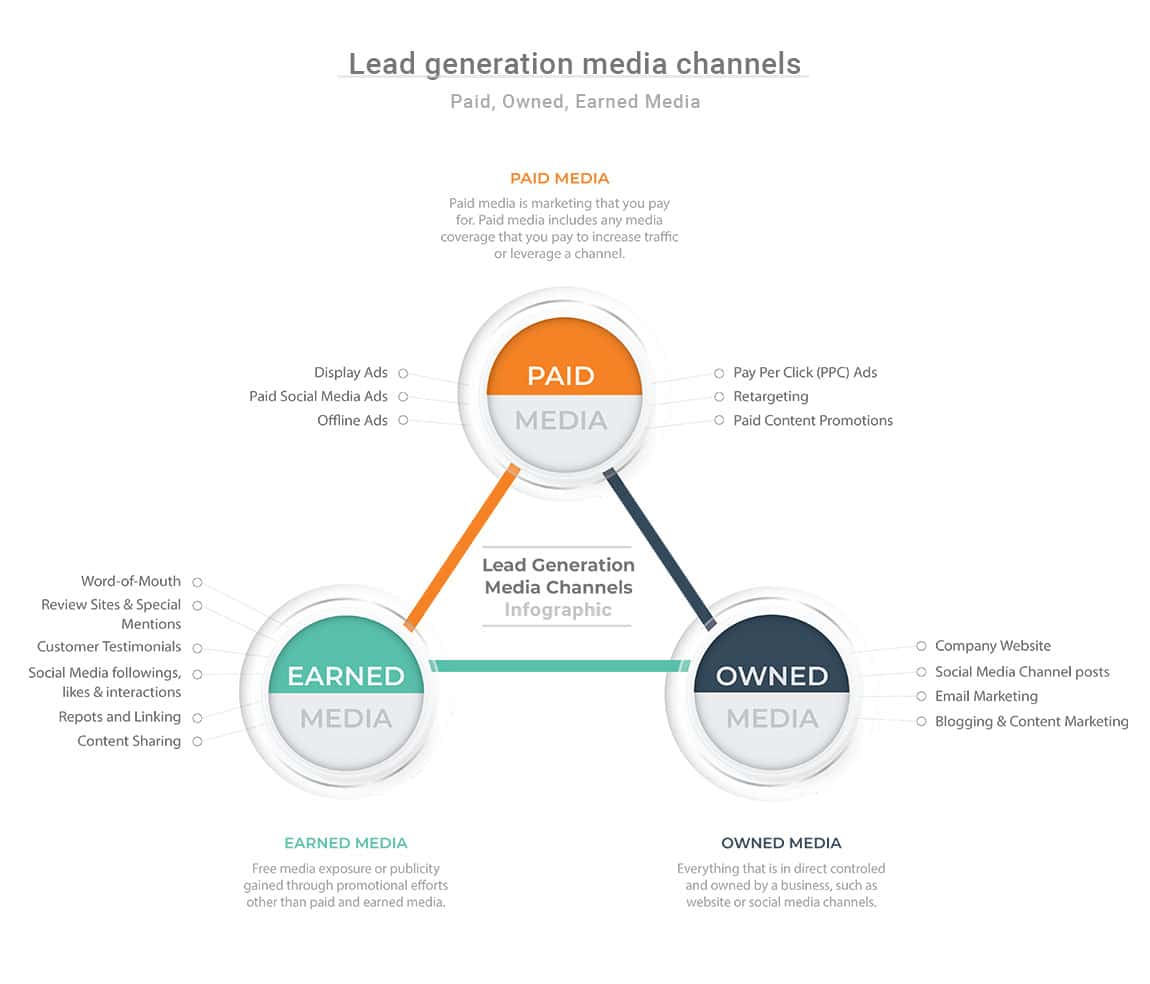 Comparison – Lead generation media channels
MEDIA TYPE
WHY TO USE
EXAMPLES
PROS
CONS
Focus
Can grab maximum attention with less efforts by just spending your marketing budget on the channels you want to leverage.

Display ads
Paid Social Media ads
Offline ads
Pay Per Click (PPC) ads
Retargeting
Paid Content Promotions

Easy and definite tracking
On-target communication
Instant & fast results

Costly not pocket friendly
Low credibility in customers' mind
High dependency on paid medias

Owned Media
If you are strong in generating organic traffic by doing content writing, SEO, blogging and wanted to spend less in paid media.

Company Website
Social Media Channel Posts
Email Marketing
Blogging & Content Marketing

Pocket friendly
Easy publishing
Control over information flow
Promising & satisfactory
Long term benefits
High organic ranking

Long wait to fruitful results
High competition
Needs more efforts from the marketers
Can be frustrating at times

Earned Media
Long term efforts that creates impressive brand value and brings success for the businesses. Even a word-of-mouth from existing customers plays a big role.

Word-of-Mouth
Review sites and Special mentions
Customer Testimonials
Social media following, likes and interactions
Reposts and Linking
Content sharing

Free
Highly credible
Increased brand awareness
Targeted reach
High ROI
Qualified leads

Hard to measure
Takes time and effort
Can bring negative publicity
No control
Common actions visitor performs on website landing page
With the "business right now" approach website landing pages have specific benefits that set them apart from regular website pages and make them an effective lead generating marketing tool. Targeted content for the target audience within the website landing pages develops better scope of conversions for the businesses by avoiding higher bounce rates. As a part of inbound marketing strategy crafting and optimizing the website landing pages near to perfect can effectively convert incoming traffic into mature leads and generate better sales.
Common actions that visitors perform after landing on a page are:
Subscribing channel or email newsletters
Buying or doing purchase
Downloading freebies, reports, whitepapers
Registering for an upcoming event
Free trial signups
Product demos enrollment
Elements that optimize website landing pages for better conversions
"Keeping relevant, focused, important information on a single page can increase conversion by 55%"
Landing page optimization (LPO) is the process of improving elements on a website to increase conversions. A well-crafted landing page simplifies the offer process, eliminates distractions and turns prospects into qualified leads. Creating an optimized page requires playing around with on-page elements hence building pages that engage with the target audience and interact with the ultimate conversion goal.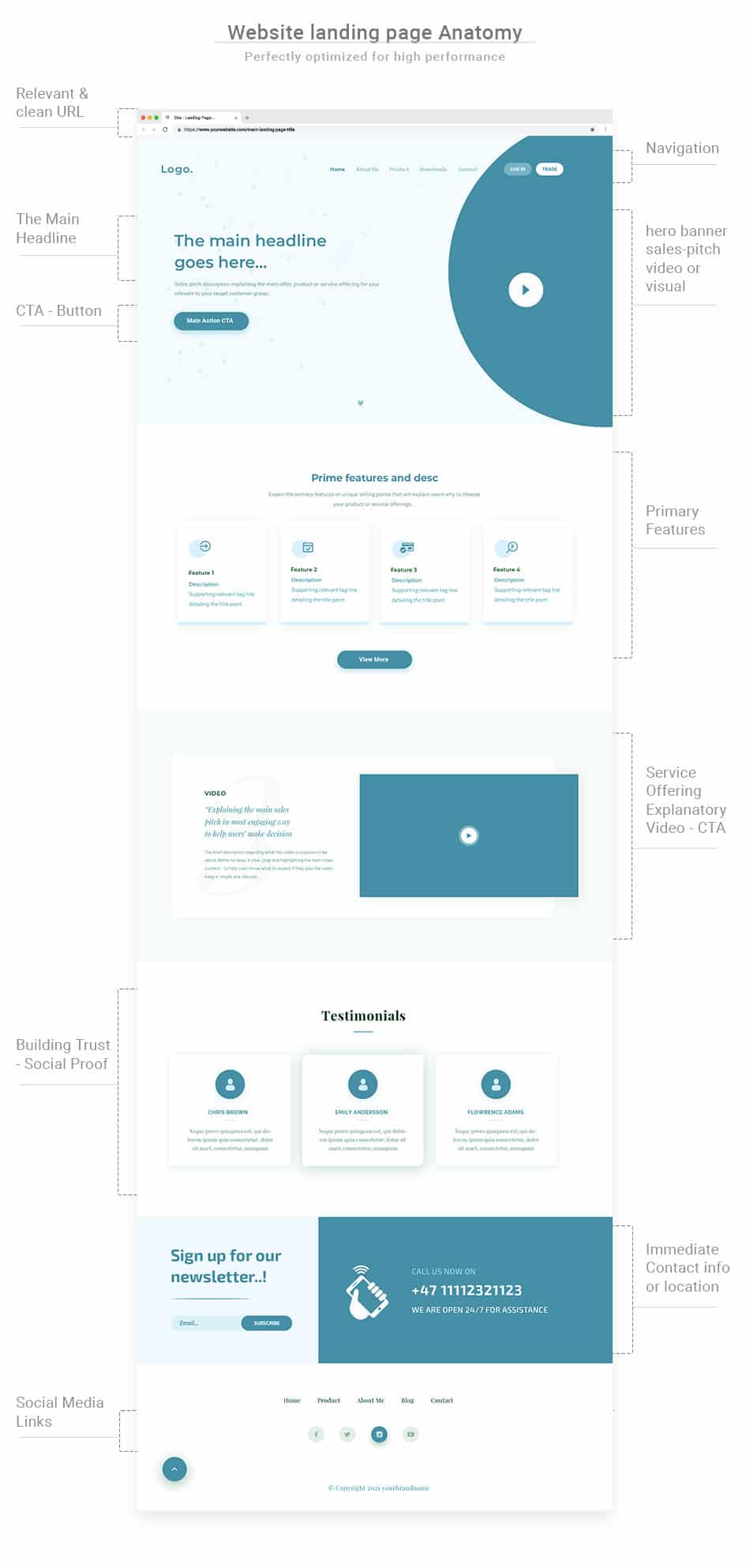 6 points for creating the most converting website landing pages
Write an impressive Copy
Attention-grabbing headline acquaints visitors straight away with the offer and targets the pain point. As visitors land on the page unique headline lays out your positioning and acts as a gateway to captivate visitors in a few seconds.
Supporting lines that complement the headline and acts as a reinforcement to the claims. By providing more depth to the main headline it helps visitors with more information and understanding.
Termed as the face of a landing page that is generally a photo or video that describes benefits and entices the emotions. Hero shot helps the visitors to imagine that they themselves are using the product and enhances their desire to use it in real.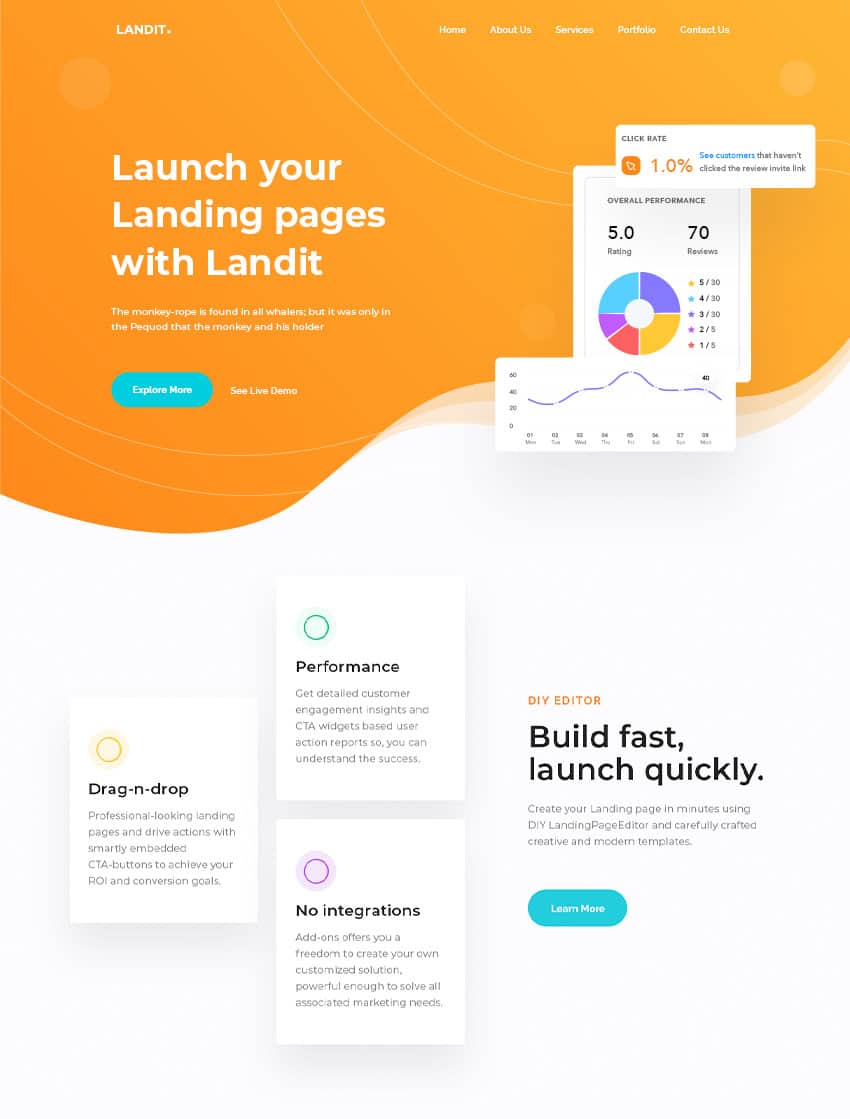 Using video on your landing page is a great way to improve visitor engagement and boost conversion rates. Do you know brains process video 60,000 times faster than text and as per a study by EyeViewDigital having a video on your landing page can increase your conversion rate by 80%.
They build the trust factor of the visitor to perform actions and get converted into a mature lead. Few social proofs that can be incorporated are testimonials, reviews, trust seals, contact info, social media followings, Google ratings, etc.
Throughout the web use the same pitch lines, offers, and colors while running a marketing campaign. Visitors must relate the landing pages where he has landed, with the ad source that he has clicked.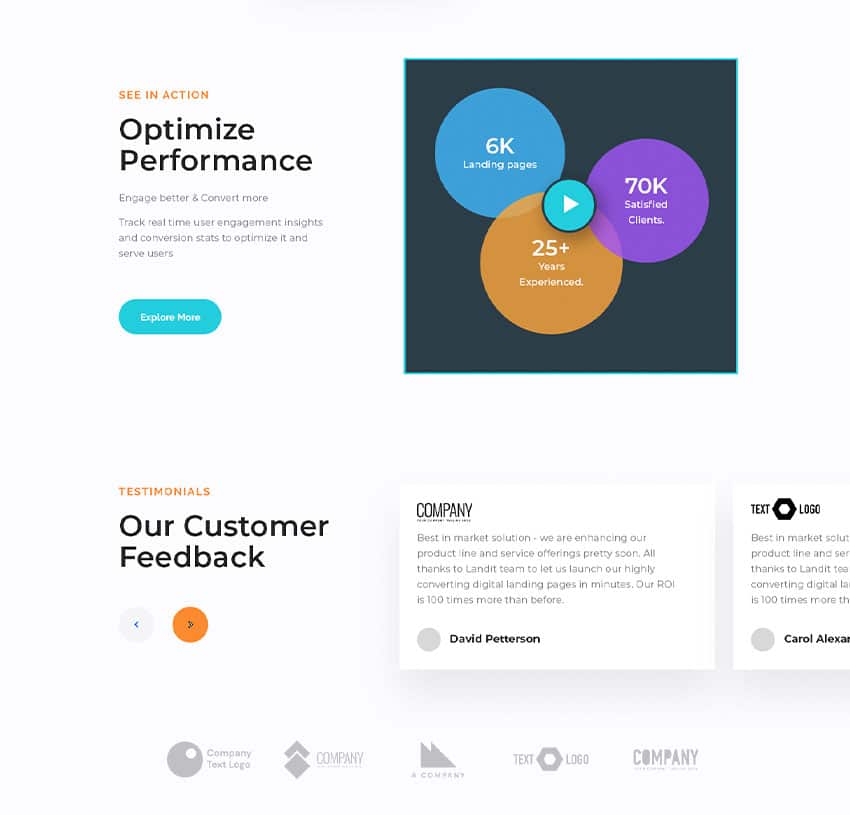 Compelling Call to action (CTA)
The call to action is what you want the user to do on the landing page. Call to action text is most frequently labeled on a button graphic to encourage click-through and is strategically placed on a page. Try to create a visually appealing and persuading CTA that appeal to the visitors, traditional CTA's like Download, Try me, Get now; don't create motivation to click. Instead try something inviting like Click to get 10% off now, Grow your business with me, 30 minutes free demo, and more.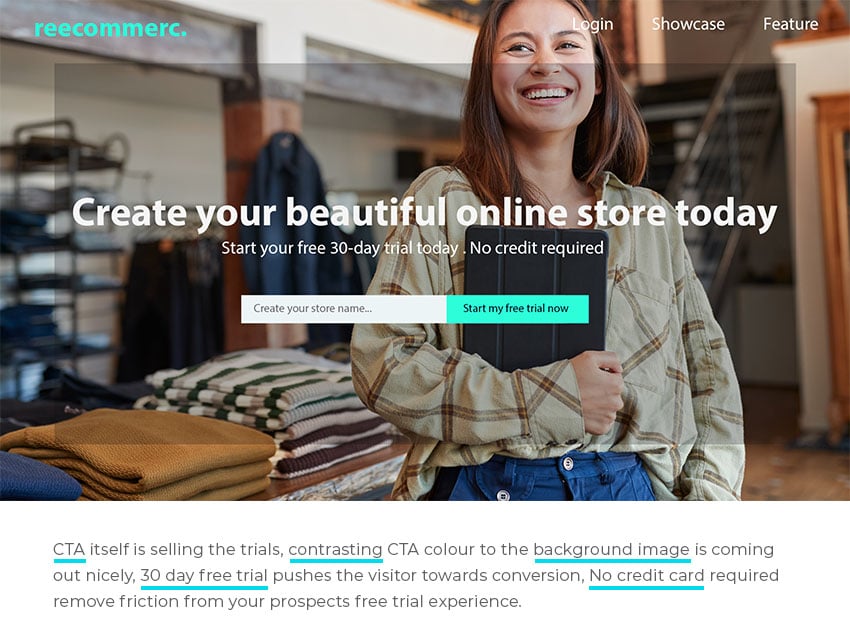 Important tip –
"Attention ratio" – Attention ratio is the ratio of interactive links on a website landing page to the number of conversion goals. Landing pages are created to achieve one specific conversion goal hence clickable links on the page are also restricted to a minimum i.e. one or two. Keeping the attention ratio (goal: links) 1:1 and 1:2 are considered as the most optimized values for the attention ratio. One link to click or one call to action in one website landing page prevents the visitor escape from the page; numerous links on a page are just like holes in the water bottle that will make your water go away. Prevent your landing page conversions to slip away by blocking all with these weak link leaks and push your visitors to perform focused desired actions."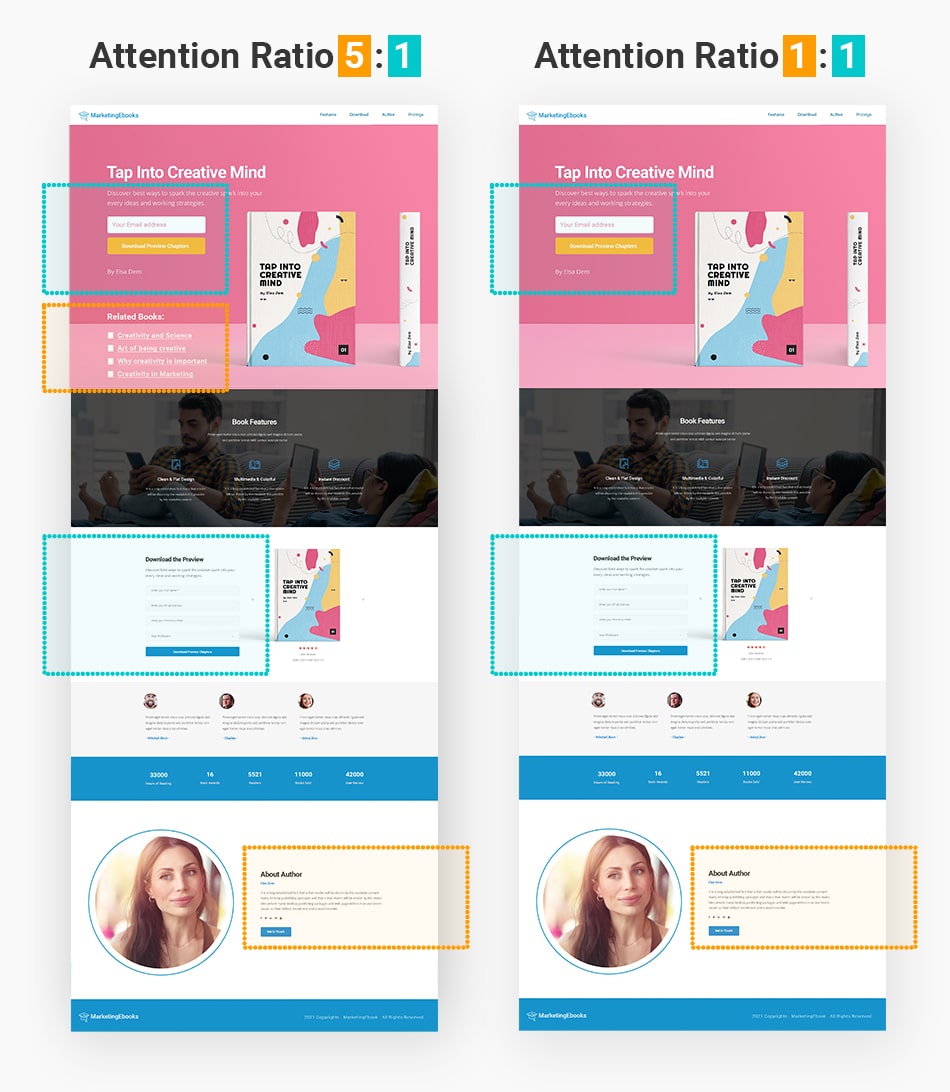 Simple form that is easy to complete
Neatly arranged, clearly labeled form with a restricted number of fields is the key to win the leads. Don't make your forms complex and extra lengthy with irrelevant fields that you are never going to use. With the direct impact on conversion rates, every landing page's ultimate objective is to get it filled and submitted by the visitor. Forcing your prospective lead to fill unnecessary fields will make him irritating as a result, he can even lose interest in your offer and leave the page.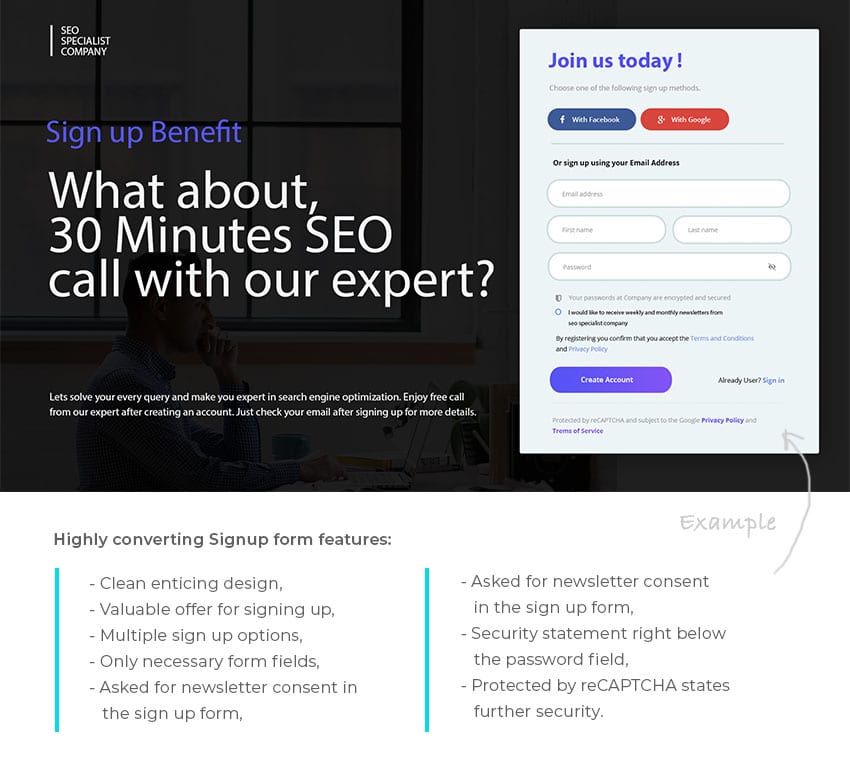 Website speed
Relation between potential conversion rates and page speed is directly proportional and it is well-researched fact that Visitors abandon the page if they have a slow web experience. Optimize your website or page load speed by upgrading your hosting, resizing images, minimize plugins, cleaning up the written codes, reducing redirects, and minify CSS, HTML, JavaScript.
"Analytics say that 40 percent of consumers will abandon a website that takes more than three seconds to load"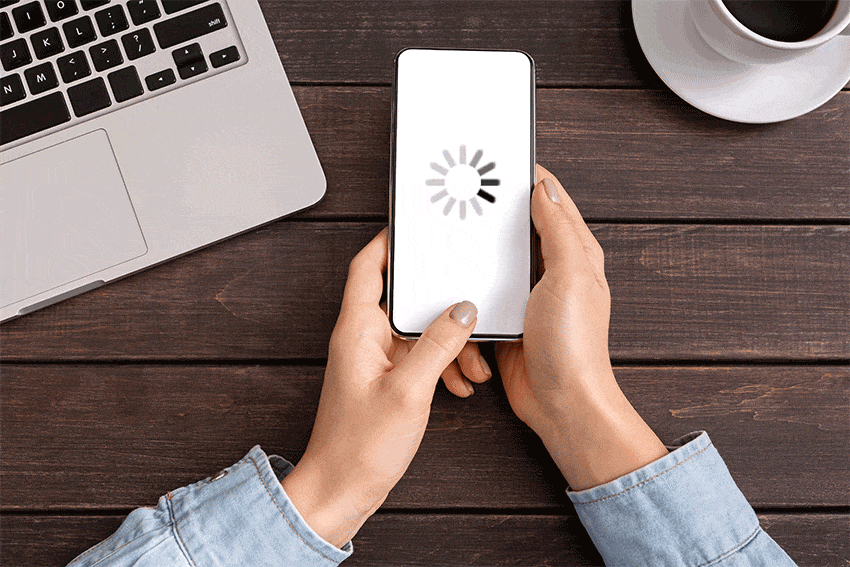 Mobile optimized
Create your landing pages responsive to work on any screen and if you can't do that create separate landing pages for the mobile users. The mobile page is having all the elements of the main web page but rearranged in a manner that is easy to navigate and equally convincing to the visitors. Give your users fast mobile experiences.
"Slow mobile pages can slow down your business. 53% of visits to a mobile site are abandoned if it takes more than three seconds to load. For fast uploading of your mobile landing page, consider adopting mobile technologies like Accelerated Mobile Pages (AMP). AMP pages typically load 85 percent faster than standard mobile pages."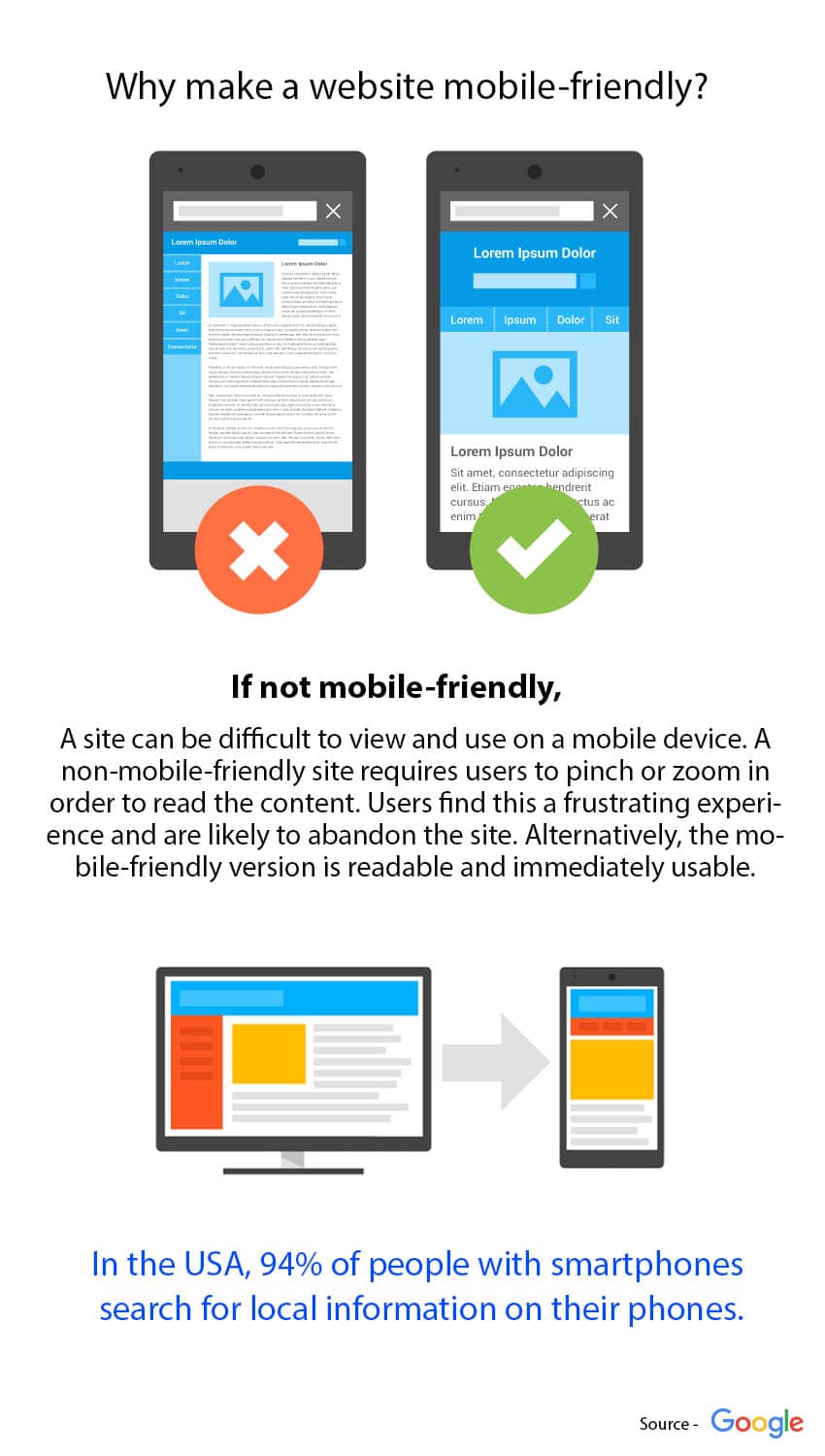 Constant testing and tuning
We can create the best landing design in the marketing world by following all the principles stated above. But you need to implement constant improvements, rearrangements, and fine-tuning of elements within a landing page to bring surplus conversions. Monitor the performance of your landing pages by considering the below-mentioned points and manipulate your landing pages accordingly. Have a plan to track these points to get a clear idea of your campaign's success.
Lowest Conversion Landing Pages
High Bounce Rate Landing Pages
High Exit Rate Landing Pages
Lowest Time Spent Landing Pages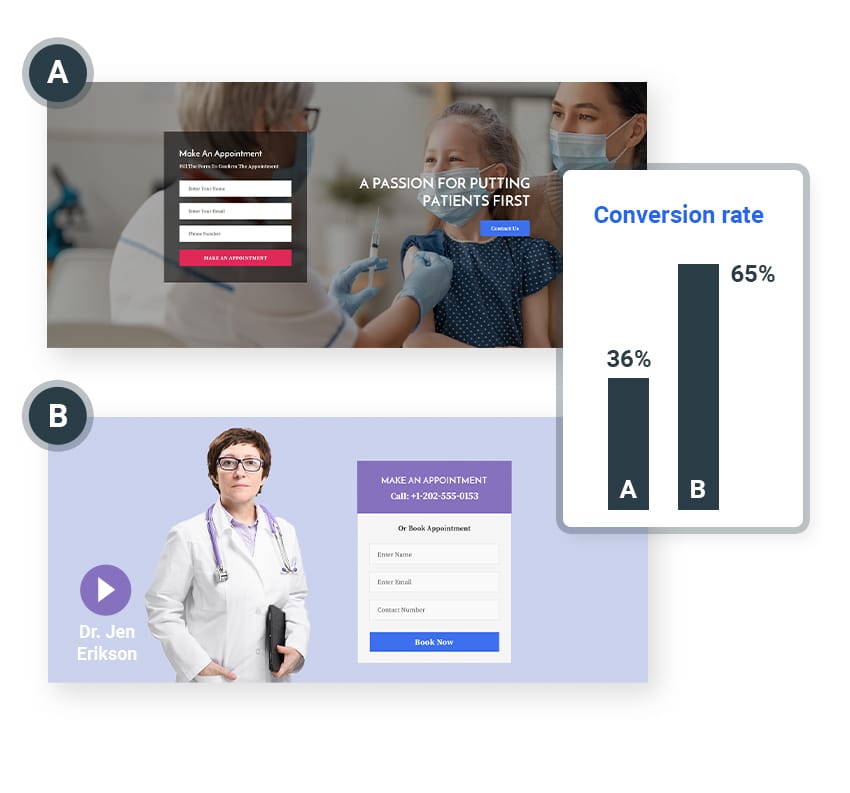 How to track your website landing page analytics?
'Conversion Rate' an important website landing page metrics
No battle is won until you have not achieved what you have been fighting for, in the end only the result matters. If the desired action is not performed by the visitors all your toil will be in vain and you have to rethink your strategy once again. The most important metric for a landing page is conversion rate, the success of a website landing page can be measured easily so that decisions of campaign continuation and improvisation could be taken.
A conversion rate is the percentage of visitors who complete the desired action. The desired action is always specific to the website landing page overall goal and that can be either having more subscribers, getting contact information, eBook downloads or product purchases, etc
For example – If you had 100 conversions from 1000 interactions on your landing page, that means your conversion rate is 10% i.e. 10/1000 x 100 = 10%
CONVERSION RATE (%) = NUMBER OF CONVERSIONS / TOTAL NO. OF VISITORS X 100

What is a good conversion rate?
"Across industries, the average landing page conversion rate was 2.35%, yet the top 25% are converting at 5.31% or higher. Ideally, you want to break into the top 10% — these are the landing pages with conversion rates of 11.45% or higher."
There are no actual figures to rely on; some website landing pages ultimately bring more conversions compared to others. Every landing page can perform outstanding if optimization basics like Usability, design aesthetics, CTA, offering, A/B testing are implemented intelligently while creation of website landing page. Conversion rate figures can dramatically vary depending on various variable factors like brand value, existing customer base, organizational reputation, current marketing strategies, etc. Keep in mind that optimized website landing pages bring optimized conversion rates leading to easy success for your campaigns.
Two ways to create a website landing page
Choose the best way to design your next landing page campaign to bring conversion laurels to your business. You have already got vital information and knowledge about effectively designing the landing pages for your upcoming marketing campaigns. Now it's purely your choice how you want to carry with the designing of landing pages, below are the ways to do.
Hire a designer
You can hire designers for creating landing page designs for you, but the task will get very tedious and surprisingly costly if you need multiple landing pages for your campaign. Constant editing and changes in the landing pages for future improvements will not be economical and every time reaching the designer for minute changes will also be frustrating. We all know it sounds easy to hire external designers for freelancing platforms but in the end, results are not as you have wished.
Website landing page builder
Personalized post-click landing pages can be created with the help of website landing page creation tools. With the help of these tools you can easily create, edit, and publish your landing pages without the need for any external help. Feature loaded, drag, and drop elements, multiple layouts there is a lot to choose from to create a well-designed and functional landing page. Most tools are free to use and also provide prebuilt landing page templates that are professionally built and aesthetically awesome. Try your hands on these easy to use automated tools that can be a game-changer for your next marketing campaigns.
Creating, improving, and experimenting with new ideas is the essence of best-converting website landing pages. Striking headlines, appealing visuals, and provoking offers to trigger the visitor's sense to perform conducive actions for the business. Convert all incoming traffic to real customers by producing a landing page design that meets visitors' every requirement and need.